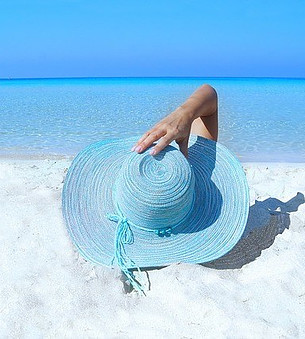 If you love the outdoors as much as we do, and yet have eczema to deal with, we can totally understand how it is – the heat, the itch, and the flares. So we uncover for you our shortlist of the best sunscreen for eczema, allowing you your right to enjoy the day in the sun as much as everyone else.
Knowing how eczema warriors are sensitive people, our single most important criteria for recommending these sunscreens is: natural ingredients only, no chemicals or other toxins that can further damage your skin and health.
How too much sun exposure can hurt your skin
Long term over exposure to ultraviolet rays
Over exposure to ultraviolet (UV) rays can lead to a host of serious problems, many of which do not show up in the short term. Over many years, UV exposure can lead to aging of skin, as the elasticity weakens, sagging and wrinkles occur. More importantly, it can contribute to skin cancer, which results from uncontrolled growth of abnormal skin cells. So there are dire consequences for not giving yourself enough protection from the sun.
More information on skin cancer can be found on www.webmd.com.
Sunburn
Sunburn is the most obvious and immediate effect from over exposure to the sun. Symptoms include redness, skin that feels hot to the touch, pain, swelling, itching, tenderness, and even blisters. You may feel thirsty too. There are remedies for sunburn, but prevention is better than cure. No one likes a sunburn, especially an eczema warrior. The heat and itch is many times worse on eczema skin. So if you know you're spending a good amount of time in the sun, it is wise to put on some protection.
Natural protection without sunscreen
Without putting anything on your skin, these strategies will already protect you lots from the harmful UV rays, if you're just outside for not more than an hour or so:
Stay out of the sun around noon time. Go get yourself a slow and relaxing lunch, followed by a snooze or a lazy time reading a book indoors while on your beach vacation. The morning sun and late afternoon sun are the least harsh on our skin.
Stay under an umbrella, or wear your big shady hat.
Wear a long sleeve that is light-coloured, light-weight and fits loosely, so that it keeps most of the harmful rays away, while allowing you to stay cool in the breeze.
A good natural sunscreen will work hand in hand with these methods to give your sensitive skin the maximum protection.
Best sunscreen for eczema – our top 2 picks
The selection listed below are really the best of the best sunscreen for eczema. My criteria for anything that goes on my eczema warriors' skin: if you will not put it into your mouth, then don't put it onto your skin. Because on the weakened skin barrier as is the case for eczema sufferers, substances, good or bad, can penetrate more easily, and enter the bloodstream more directly and much faster than the foods we eat which have to go through the long digestive process.
Check out my other article on what harmful substances go into commercial personal care products.
Another important criteria for the best sunscreen is the active ingredient used. Zinc oxide is one of the best physical screens against UV rays, as it blocks and scatters them so they do not get onto the skin. So it is one of the most protective broad-spectrum ingredients that any manufacturer can use. The problem is it tends to form a thick white paste, which doesn't go down so well with consumers. So making a natural and effective sunscreen is an art of finding and balancing the right ingredients.
So here we go…
MooGoo is a brand that we absolutely trust. We are using a range of their products, from their Irritable Skin Balm as a moisturiser on our eczema skin, to their Nappy Balm and MSM Soothing Cream for our infected eczema wounds, or just the open wounds from too much scratching.
 The MooGoo Natural Sunscreen SPF 30 is made from all natural ingredients:
Water, zinc oxide 24.9%, Jojoba oil, galactoarabinan, beeswax, coco caprylate, sorbitan olivate, lecithin, polyglyceryl-2 dipolyhydroxystearate, cetyl phosphate, polyglyceryl-3 polyricinoleate, oleic acid, glycerin, sodium chloride (salt).
The list is short compared to many other commercial brands of sunscreen, so that is one thing I look out for. Let's go through the items that don't seem so familiar: Galactoarabinan is a moisturising polysaccharide from Larch trees. Coco caprylate is a light coconut-based emollient. The bunch of underlined ingredients, looking rather complicated, are all emulsifiers, to prevent clumping of the zinc. They are all natural and derived from plant.
It is suitable for all ages, even babies.
What I like about this sunscreen is that it is not too thick, heavy or greasy. Using a good amount of zinc in sunscreen without it being too greasy is really a skillful art that takes years of research and trial and errors to achieve.
To make this work really well, after applying a layer of MooGoo sunscreen onto your skin, wait 30 seconds for it to warm up to your body temperature, and you can then rub it in clear, without the white greasy mess that is typical of so many sunscreens.
Another great company with great integrity, that goes for all natural ingredients, and simplicity in their products. They use certified organic ingredients as far as possible, and embrace a cruelty-free philosophy in their business.
 The Badger Natural Mineral Sunscreen Cream SPF 30 is made from all natural ingredients, what is really amazing is this short ingredients list:
Zinc oxide 18.75%, Helianthus Annus (sunflower) seed oil, beeswax, tocopherol (sunflower vitamin E), Hippophae Rhamnoides (seabuckthorn) fruit extract.
Short is just great when it comes to ingredients list, I can't stress this enough. You can see they are all natural, so is safe for all ages including babies.
The only down side to this Badger sunscreen is that it is slightly thicker than the MooGoo one, and leaves a bit of a whitish residue. To reduce this whitening effect, after applying it, wait for about a minute to rub it in again.
Added bonus of zinc oxide
For the eczema warriors out there, zinc oxide is a mineral that aids in wound healing, and calms eczema itch effectively. So we use it on infected skin, open wounds, and during itch fests. This is the added bonus of having zinc oxide in your sunscreen!
We hope you benefit from our top picks of the best sunscreen for eczema. Do drop us a comment below to share how it has worked for you.
Please follow and like us: