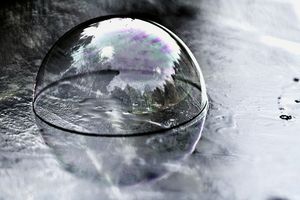 Over the years, I have searched high and low, for the perfect natural body wash for eczema – something that would not further load sensitive little bodies with more chemicals and toxins than what they were already exposed to; something that has natural goodness in it, that would help the skin lock in its natural moisture, and do whatever else that nature has intended for it.
I've ditched these common brands
So I was on a mission, armed with my notebook in which I had scribbled down all the harmful ingredients that I wanted to avoid (read more about them in my post: Why Natural Body Wash for Eczema). Along the aisles of personal care products, I spent long periods of time and immersed myself studying and scrutinising all the labels, and especially the ingredients list.
I was totally appalled to find that so many of the common and popular brands actually contain some of these most harmful and allergenic ingredients: sodium lauryl sulfate (SLS), parabens, and fragrances.
In fact, even before that, I took a few steps into my bathroom, and squinted at the ingredients list at the back of the body wash bottles sitting on the window sill. And I discovered these…
On their website, this face and body cleanser is advertised as "a mild, non-irritating formulation that soothes skin as it cleans. In fact, it's gentle enough for a baby's delicate skin. …"
There are so many raving reviews about this product, including our friends who had used it, our own dermatologists and pediatricians who had recommended it, which was also precisely the reason that this product was found in our bathroom. In fact, we were very comfortable using it, and found it to be really quite mild and non-irritating.
But, look at the ingredients. They are right there, staring at you – water, cetyl alcohol, propylene glycol, sodium lauryl sulfate, stearyl alcohol, methylparaben, propylparaben, butylparaben.
SLS is one of the major skin irritants and allergens, and the parabens, they are the dangerous ones.
Even though the other ingredients are really quite mild and harmless, compared to some other brands, but it is a fact that parabens are used. And definitely no more SLS for my eczema children, thank you.
Again, this product is marketed as "Your baby's extra-delicate skin requires the best care and that means bathing baby with soap-free body wash. Our Baby Wash Extra Soft was created without soap to help protect your child from skin rashes, dryness and other skin conditions that can result from using harsh cleansers."
A look at the ingredients – Water (aqua), Decyl Glucoside, PEG-7 Glyceryl Cocoate, Disodium Laureth Sulfosuccinate, Sodium Laureth-6 Carboxylate, PEG-120 Methyl Glucose Dioleate, Sodium Lactate, Allantoin (Comfrey Root), Squalane, Magnesium Sulfate, Fragrance (Parfum), Benzyl Alcohol, Phenoxyethanol, Potassium Sorbate.
OK, at least the sulfates and parabens are not there. But fragrance is.
Moreover, the third last and second last on the list: benzyl alcohol and phenoxyethanol, are known skin irritants. Benzyl alcohol is also associated with organ system toxicity.
Sebamed was also recommended to us by our dermatologists, again, precisely why it was also in our bathroom.
From that day on, I became paranoid and a control freak when it came to what I put on my eczema children's skin. I would scan every ingredient with my death stare, googling any substance that was not in my vocabulary.
Wait, … let's also be fair
In all fairness, in the two products that I have discussed above, the companies did try to live up to their claims of using mild and gentle ingredients instead of harsh cleansers. Maybe I nitpick too much, but that's me, and I'm not taking anymore chances when it comes to my eczema kids. They have suffered enough, and they deserve only what I perceive as the best.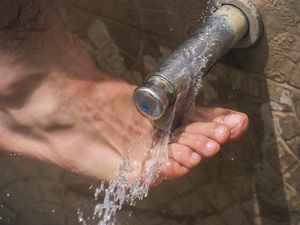 If I cannot find an all-natural product for them, then I guess we don't need any commercial soaps or body washes or shampoos. If they have to bath in just plain water, or with apple cider vinegar, or ginger, or Epsom salt, or the other salts (Himalayan salt, dead sea salt, etc.), then so be it.
Fortunately, I did manage to find something that is all-natural…
Dr Bronner's 4-in-1 Organic Pump Soap
Let's just zoom in straight to the ingredients list. It comes in various scents (not fragrances, but scented, using natural substances): peppermint, lavender, tea tree, lemongrass lime, and baby unscented.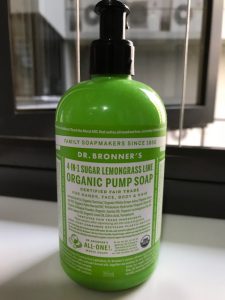 The one I am using is lemongrass lime, so I will share the ingredients list for this: organic sucrose, organic white grape juice, organic coconut oil, organic palm kernel oil, potassium hydroxide, organic olive oil, organic shikakai powder, organic jojoba oil, organic lemongrass oil, organic lemon oil, organic lime oil, citric acid, tocopherol.
As you can see, almost all the ingredients are organic (this product has been certified organic by the USDA National Organic Program). It has been certified vegan as well, by Vegan Action.
Shikakai is a fruit, some call it the hair fruit, as it has been used for centuries as an Ayurvedic herb to replace shampoo or in hair care products, due to its excellent cleansing properties.
The few items that look like chemicals are
potassium hydroxide, which is used to induce saponification of the fats and oils, a necessary process in the making of liquid soap. There is a statement at the end of the label which states that no potassium hydroxide remains after saponifying the oils into soap and glycerin;
citric acid, this is an organic acid found most abundantly in citrus fruits, used in liquid soaps to adjust its pH level, and make it more acidic;
and tocopherol, this is a form of Vitamin E.
So in fact they are all harmless. This is one of the most natural products I have found after all these years. The "4-in-1" stands for hands, face, body and hair. So you just need this single product to take care of yourself from head to toe.
Grab one now!
Dr. Bronner's Organic Lemongrass Lime Sugar Soap. 4-in-1 Organic Pump Soap for Home and Body (24 oz)
Dr Bronner's soaps go back a long way, about 160 years, with a rich and interesting history. I have written more about it in another article (click here to read). Their strong philosophies of being organic, natural, animal cruelty-free, environmentally friendly, and engaging in fair trade practices resonate with me.
So I'm now a huge fan of Dr Bronner's soaps, whether it's liquid soap or bar soap, I use them to DIY all the cleaning products and personal care products in my home. Read about my DIY articles here:
DIY household cleaners
DIY cleaners from head to toe
Do you have personal experiences with Dr Bronner's soaps or other brands to share? Feel free to comment below.
Please follow and like us: