No matter how well and how thoroughly we rinse off after washing dishes, we can never be sure how much traces of the dishwashing detergent will be left behind. Upon the next use, it gets onto our food and goes right into our stomach! Chemicals like SLSs (sodium lauryl sulfates), fragrances, formaldehyde, triclosan and all.
To me, the only way out is to formulate an edible soap. Here in this article, I share our homemade DIY dishwashing liquid recipe, but do note that it is only for handwashing, not formulated for the dishwasher.
Why DIY?
Let's randomly pick up a popular brand of dishwashing liquid, and study the ingredients list. I chose Palmolive dish soap, which I believe is a well-known brand to most households. So here are the ingredients for the Palmolive Ultra Soft Touch:
water
ammonium lauryl sulfate
ammonium laureth sulfate
lauramidopropylamine oxide
isodeceth-6
sodium Chloride
poloxamer 124
SD Alcohol 3-A
magnesium Sulfate
fragrance
styrene/acrylates copolymer
pentasodium pentetate
methylisothiazolinonebenzisothiazolinone
methylchloroisothiazolinone
aloe barbadensis leaf juice
dyes
sodium bisulfite
This product is advertised as being infused with nurturing ingredients to keep hands touchably soft while still providing tough-on-grease action. Hmmm… how is that possible? If it's tough on grease, wouldn't it be tough on your hands as well? Adding aloe vera does not cancel off the harmful effects of all the other chemicals.
Let's look at the problematic substances:
SD Alcohol 3-A is a grain alcohol, considered broadly toxic and linked to birth defects. Fragrance is an issue, as companies are not required to list the chemicals used to manufacture their fragrances. Methylisothiazolinone is a preservative that has been associated with allergic reactions, and neurotoxicity. Benzisothiazolinone is linked to irritation in the skin, eyes and lungs, as well as organ system toxicity. These are based on the EWG's (Environmental Working Group) Skin Deep database of chemicals used in personal care and cleaning products.
I guess I don't need to say more. Even though, admittedly, the other ingredients are generally mild, but for my eczema warriors who are sensitive in nature, whether through their skin or airways or digestive system, I wouldn't knowingly expose them to these chemicals. What they need is a clean and natural environment, not bowls and spoons washed with chemicals that would potentially irritate them further, and add on to their toxic load.
Natural, edible ingredients
In our homemade dishwashing liquid, there are only 3 items, all natural and edible. Though I wouldn't encourage you to try to eat it, as your taste buds may not like it too much.
Dr Bronner Castile bar soap – the unscented version is made of organic coconut oil, organic palm oil, sodium hydroxide (none of which will remain after saponifying the oils into soap and glycerin), water, organic olive oil, organic hemp oil, organic jojoba oil, sea salt, citric acid, tocopherol (this is vitamin E).
Dr Bronner Castile liquid soap – the unscented version is made of water, organic coconut oil, potassium hydroxide, organic palm kernel oil, organic olive oil, organic hemp oil, organic jojoba oil, citric acid, tocopherol.
Baking soda – this is sodium bicarbonate, a salt made of sodium ions and bicarbonate ions, appearing as a fine powder. It is commonly used as a baking ingredient to cause batters to rise when baked, by enlarging the air bubbles in the batter.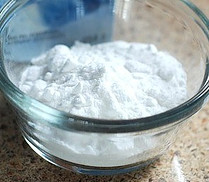 As you can see, these are all natural ingredients, no synthetic chemicals. I have another article extensively discussing Dr Bronner's – the history, the brand and the soap. Now Dr Bronner's is the only commercial product that I buy for cleaning purposes. With some mixing and concocting, I use it to DIY all our personal cleaning products, as well as household cleaning products.
Why both liquid soap and bar soap needed in recipe?
Even though their ingredients are very similar, I found that their lathering or sudsing effects are quite different, probably because liquid soap is made up of a much larger component of water.
I tried using just Castile liquid soap, dilute it in water, and use it on the dishes. Somehow it felt rather weak, and does not suds up well. On the other hand, using just Castile bar soap would mean a lot more work grating it all down to tiny bits. So the compromise on sudsing and spending the time and effort to grate it all down would be a combination of bar soap and liquid soap.
Recipe
Finely grate 1 bar of Castile soap.
In a pot, bring to boil 4.5 cups of water.
Turn off the fire, and add the grated bar soap to the hot water. Stir until dissolved.
Add 4 tablespoons of baking soda to the mixture. Stir until dissolved.
Add 1 cup of liquid Castile soap.
Allow the mixture to cool before transferring it into your dish soap dispenser. The rest goes into storage bottles for refilling the dish soap dispenser in the future.
Does it do a good job?
My personal preference is to use the tea tree scented bar soap, as well as liquid Castile soap. It uses tea tree extract, not synthetic fragrances.
The recipe above makes a batch that lasts me about 1.5 months. In fact, it really depends on who does the dishes. My husband tends to use a lot more of the dishwashing liquid when he does the dishes, as compared to me.
Moreover, we use very little oil in our cooking, around two dinners a week of pan-frying, and one dinner a week of baked salmon fish head, which tends to get rather oily. Other than that, breakfasts and lunches are all meat free and oil free. So this dishwashing liquid serves us well.
If you are using more oil in your cooking, you may want to adjust the concentration by reducing the amount of water used, or increasing the bar soap and/or liquid Castile soap from the recipe.
Alternatively, you could also replace baking soda with washing soda. Washing soda is a stronger cleaning agent, but it is also caustic, which means it can burn or damage your skin tissue. So I avoid it as the dishwashing liquid will definitely come into direct contact with my hands, and I'm rather clumsy at using gloves.
If you wish to replace the baking soda with washing soda, please do take care to use gloves when doing the dishes. Gloves are a must, to protect yourself. By the way, washing soda is NOT edible, so do make sure to give your dishes a good, thorough rinse.
Green dishes in a green home
I have been using this recipe for dishwashing liquid in my home for almost 6 months now. And it certainly looks like it is here to stay for a long time. It is made of mild and natural ingredients, yet effective enough to do a sparkling clean job. I feel at ease knowing the surfaces that touch my children's food just before entering their mouths are chemical free and non-toxic.
Please follow and like us: