These two are our go to products after searching high and low for a natural balm for eczema: Green People Organic Babies Mum & Baby Rescue Balm and Moogoo Irritable Skin Balm. We use these balms regularly to moisturise. And we found them to be the most effective natural ways to heal eczema wounds and relief itching, among so many other products that we have tried.
Natural
The single most important reason why we are recommending these products is because they are made from all natural ingredients, not a single synthetic additive. Read this article to see the harmful chemicals found in so many commercial products.
People with eczema are inherently more sensitive, not just on their skin but also in their gut and in many other ways. We should do whatever we can to remove all toxic load, and the remedy should never be a hidden poison that silently worsens the eczema or creates more health problems in the long run. So always widen your eyes to read ingredients lists.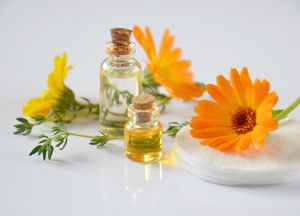 I have always joked with my children that when we run out of food in the house, they can actually eat these tubes of eczema balm. Yes, they are that natural. And our current standard is, whatever you won't put into your mouth, you shouldn't put onto your skin. Among the things that go onto our skin, whatever that can permeate actually enters the bloodstream more directly than through the long process of digestion!
Balms over creams and lotions
Personally, I prefer balms over creams and lotions for eczema-prone skin. Balms generally have a denser consistency, and tend to stay better on the dry, flaky, chapped and cracked skin. These recommended balms have various ingredients with healing properties in them, and are soothing on the skin, so my eczema warriors absolutely love them.
We use them for regular moisturising, when their skin condition is mostly manageable, with the normal eczema itch. Dry skin tends to itch more, so ensuring that the skin is well-hydrated with these balms would reduce the tendency to scratch, and hopefully stop the itch-scratch cycle.
During flares, with many open sores, weeping and oozing wounds, these may not be suitable, as you would need zinc oxide as the active ingredient to dry up and quickly close the wounds. I will be writing about how we deal with these in another article.
History
Green People was founded in 1997. It all started when a mum began making her own organic creams and salves for her daughter, who had multiple skin allergies and eczema. Her story and founding principles meant that product quality and ethical practice were never sacrificed for profit. Personally, I love to support such companies.
They committed to never using aggressive ingredients or synthetic chemicals such as SLSs (sodium lauryl sulfates), parabens, phthalates, petrochemicals, or synthetic fragrances or colourings. Also, no testing on animals.
Here is the ingredients list for the Mum & Baby Rescue Balm:
Sunflower seed oil, palm oil, beeswax, sweet almond oil, shea butter, hemp seed oil, cetearyl olivate (from olive oil), sorbitan olivate (from olive oil), calendula flower extract, tocopherol (Vitamin E).
Benefits
All natural, and more than 90% organic. The high performance ingredients used, when it comes to healing eczema, are calendula, hemp, and shea butter.
Because of its gentle action, even on babies, it can be applied on their skin sparingly, and as often as required. Some breastfeeding mums use it on cracked and sore nipples. It is also intended for use during perineal massage, in getting ready for childbirth.
If you are using this for a first time, as with any other new product that you are using, please do a patch test on a small area of the skin and watch for any reaction. Natural ingredients can also be allergens to some people.
History
The story of Moogoo goes like this: the founder adapted a cream used in dairy farms to help a family member with a skin condition. The original cream was used for the cows' udders, to heal them and keep them in good shape for milking. The ingredients used are natural and full of skin repairing properties.
Ingredients
The ingredients for the Irritable Skin Balm are:
Aqua, sweet almond oil, olive fruit oil, cetearyl alcohol, squalene (olive), aloe vera leaf juice, chamomile flower extract, centella asiatica leaf extract, piroctone olamine, polysorbate 60 (food grade emulsifier), allantoin, tocopherol (natural vitamin E), xanthan gum, hops extract.
Again, no harmful parabens, fragrances, SLS. It does what it claims: soothes red, dry, itchy skin. My 3 year old daughter loves this. You can apply it several times a day. We use it as and when the eczema itch starts, and also each night before bed, to keep the skin supple and hydrated.
Again, be reminded to patch test on a small area when using it for the first time, since you never know what natural ingredient you may react to.
Get Yours Now
Get your Green People Mum & Baby Rescue Balm, or Moogoo Irritable Skin Balm here now, and onward along the journey of healing your eczema naturally.
If you ar
e in
the UK, this link below gets you Green People products with free shipping:
Please follow and like us: