Welcome to our website EczemaWarriors.com
You are in the right place if you are looking for natural remedies for eczema in children.
How it all started
Two of my children had eczema which affected their day-to-day living. J had very mild eczema as an infant, to which pediatricians would prescribe topical steroids. He responded well, healed very fast so everyone was happy. Each time his eczema appeared, it was steroids to the rescue. When he was about 5 or 6 years old, his eczema took a turn for the worse, his skin broke out and itched like crazy. Steroids closed the wounds beautifully within 1-2 days, but the itching and scratching would start all over again. It was probably his body's way of protesting against the poisons put into his body.
Every single day, he would scratch himself raw. It was a never ending itch-scratch cycle. Almost every week, his preschool teacher urged us to do something about his skin, as he was scratching fervently most of the time during lessons, and simply could not concentrate nor learn. He was frequently exhausted and cranky. His health was at an all-time low. He was tested allergic to dust mites, nothing else. Visits to skin specialists saw us going home with more steroids and the verdict that he could never be cured, his eczema had to be managed with steroids and moisturizer, FOR LIFE.
M's story is different. She was born an extremely itchy baby. For the first year of her life, she scratched on her seemingly flawless and perfect skin. Right after her one-year old vaccination, her skin broke out and things just went downhill from then on. Itch-scratch cycle, open wounds, steroids which stopped the inflammation and closed the wounds but just never got to the root of the problem. At her worst, she was crying and screaming all day from the itch and pain, and could not function as a human being at all.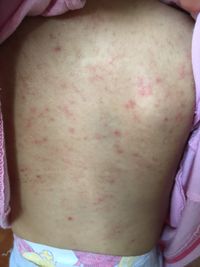 She tested allergic to eggs, peanuts and dust mites. Despite cutting off allergens from her diet, her condition did not improve. It was heartbreaking enough to see your own children suffer, what made it worse was the helplessness and frustration when nothing we tried seemed to work, and the 'death verdict' that they were stuck with steroids for the rest of their lives.
The turning point
Determined not to be defeated by eczema, I began reading up and researching extensively. In early 2016, it finally dawned on me that steroids were actually causing the health issues to grow, as they were merely covering the inflammation and pushing the problems deeper into the body, and we were not listening to their bodies, which were trying to present their health issues through the skin. From that moment of revelation, I completely stopped all topical steroids. We were not too prepared for even more suffering as the children went through topical steroid withdrawal (tsw), also known as red skin syndrome (rss). It was horrendous as their skin started to ooze, it smelled really bad, there were still lots of intense itching and pain, coupled with hot flashes when they would break out in whole-body sweat.
At about the same time that they stopped steroids, we also gradually went the path of all things natural – natural and wholesome food and supplements, removing eggs and dairy which are some top allergens for eczema, gluten-free diet, natural soaps, shampoos, moisturizers and creams, blending and juicing of fruits and vegetables to load up on all the goodness provided by nature. Over time, they got better. I dare not say they are 100% healed, but the frequencies and intensities of their flares are now much more manageable than before. They are able to enjoy their childhood, with some discomfort during flares. Which is drastically different from the days when eczema would consume their whole lives.

The purpose of this website
Even though I did not experience eczema and topical steroids withdrawal first-hand, I lived it through two of my children. I known how painful it is for eczema sufferers and their families. I hope to help anyone reading this, by sharing our road to recovery. We have lots of experience with natural remedies for eczema in children. Natural is the way to go. It takes time, but it is what your body needs.
Have faith, and let's heal together.
If you ever need a hand or have any questions, feel free to leave them below and I will be more than happy to help you out.
All the best,
Joo
EczemaWarriors.com
Please follow and like us: