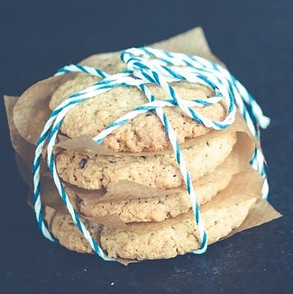 Eczema and allergic reaction are not the same thing, but they are definitely related, and one can affect the other.
In this article, we dwell into
eczema vs allergic reaction: how their effects can build up upon each other,
my daughter's allergic reaction to one particular Orgran biscuit,
the ingredients that most likely triggered her reaction,
the lessons we learnt through this scary experience.
How do eczema and allergic reaction affect each other
Eczema itself is complicated, due to its many possible causes. The common underlying health issues to eczema are immune system related, as well as shifting of elimination pathways from the organs (kidneys, liver, lungs, etc.) to the skin. People with eczema are more prone to allergic reactions, due to the immunology issues. On the other hand, allergens will quite definitely worsen eczema symptoms, and cause uncomfortable and distressing flares. So eczema and allergic reaction are more complex and intricately linked than many people realise.
Weakened immune system
A massive amount of immune cells reside in our gut, lining the small intestines. So our immune health is directly affected by our diet, whatever choices we make each day, each meal. Every body is different, some can tolerate lots of junk without showing any adverse effects. Others react to even the most healthy foods, because the immune system is not happy with what is passing through the intestinal barrier, so start seeing more and more 'normal' stuff as allergens.
Eczema is a result of this reaction, presenting as a quiet, chronic low level inflammation internally. The overworked elimination organs also lead the body to push out the 'toxic' stuff through the skin, as it is a non vital organ. These result in the rashes and itch that are so typical of eczema skin.
Allergic reaction causes eczema flares
When an allergic reaction is more acute than the low level background inflammation, it can cause eczema flares – intense itch, red angry inflamed skin that is ten times more than your regular eczema. An acute reaction usually presents quite immediately after exposure to the allergen, and typically lasts for hours.
Medical attention should be sought, especially in the case of young children, as they cannot tell us whether their airway is obstructed from it being inflamed and swollen. ESPECIALLY when you notice puffiness around the eyes, anywhere on the face, as well as neck, it could well mean obstructed airways.
For more information about the links between allergic reactions and eczema, these websites provide good resources:
My daughter's story
My daughter, M, has several allergies:
egg(confirmed through skin prick test)
peanut (confirmed through skin prick test)
dust mite (confirmed through skin prick test)
coconut milk (known through exposure)
Because of these, she has always been on a very clean diet, close to 100% whole foods that are cooked at home, only the occasional healthy processed food whose ingredients had been scrutinised.
Orgran has been one of our trusted brands, as M had tried various treats without any issue, and I had checked those labels and passed them as being clean and made with very few ingredients, which is always a good thing – the fewer the ingredients, the cleaner the product tends to be.
Somehow, the trust led me to become rather careless, as I was in a rush when purchasing this Orgran Amaretti Biscuit for the first time. I didn't check the ingredients list. My son, also with eczema, loved this biscuit, so from then on, it became a 'staple' in our pantry.
M took this biscuit for the first time in her dad's car, on the way home from school. It only occurred to us after this episode that she had never taken this biscuit before, we took it for granted since it had supposedly been passed, that was why it could have found a place in our pantry.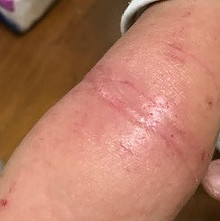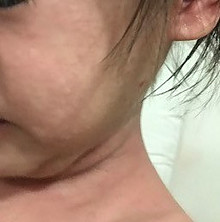 Just minutes after her first bite, my husband sensed something very wrong as she was fervently scratching at her face, neck, and folds of her elbows. These are her regular eczema spots. Her skin on these areas also became very red and inflamed.
She started breaking out in hives, all over her face. She started to swell on her face and neck, such that it felt hard when we touched, from the swollenness. Her skin also felt hot to the touch. The pictures taken were not at her worst yet.
We immediately administered some anti-histamine medication that we used for running nose, and monitored her closely while she slept it off. That was actually a stupid thing to do, as her breathing could have been obstructed from the swollen airways without anyone ever realising it.
Anyway we were blessed and very fortunate that this acute reaction went away after about 3 to 4 hours.
So began our investigative work.
I was quite appalled that I never saw this ingredients list on the packaging of the biscuit:
Maize Starch, Raw Sugar, Palm Vegetable Oil, Coconut Desiccated (Sulphur Dioxide), Rice Flour, Brown Rice Syrup, Yellow Pea Flour, Natural Amaretto Flavour (0.5%), Emulsifier: Vegetable derived Monoglycerides, Salt, Raising Agent: Sodium Bicarbonate.
I was also surprised that products from the same company could actually be so vastly different, in terms of whether it promoted clean and healthy eating or not. This is definitely NOT what I would call a short ingredients list, not something I would pass to put into my children's mouths.
The main suspects that triggered M's allergic reaction: maize starch and coconut desiccated.
At that time, we had not yet discovered her allergy to coconut milk, so we pointed our fingers at the maize starch, as she did have her eczema symptoms worsen before, upon consuming corn, though it was nothing like an acute reaction. But now we know better, as coconut milk has caused her to throw up violently immediately, after taking a few mouthfuls of my homemade ice cream.
On hindsight…
Looking back at the incident, I can only thank my lucky stars that my stupidity did not result in anything more serious. But please do not follow my footsteps of failing to bring the child to the emergency department. When it comes to anything related to breathing, things can happen too fast for us to react. By the time we realise the person is having breathing difficulty, we may be a bit too late in getting the intervention required.
Final thoughts
In most cases, a person with eczema reacts to allergens with greater discomfort, rather than life-threatening situations. But that doesn't mean we should let our guard down. Eczema and allergic reaction tend to go hand in hand. So every acute reaction must be monitored carefully, and actions taken swiftly. Better be safe than sorry.

Please follow and like us: