If your child is embarking on a gluten free diet for eczema (this earlier article discusses the whys and hows), it is good to get prepared by sourcing out some gluten free snacks ideas for kids. Of course the best choices are natural, wholesome foods like carrot and celery sticks, an avocado or an apple or a banana to munch on. Or whip up a delicious dairy free ice cream or avocado dip using the freshest gluten free ingredients.
But sometimes things happen. We may run out of fresh produce that the kid approves of. Or we may need to run some urgent errand such that the kid is spending a longer than expected amount of time on the road with us. Or he just has a craving for 'junk' food that has to be met. Or we fall sick and just cannot make ourselves get up to prepare the homemade lunch for them to pack to school.
In times like these, it pays to have a backup stock of packaged snacks that we can rely on to meet urgent hunger needs. Being prepared means stocking up beforehand, which also means having the luxury of time to scrutinise labels and ingredients list to make the healthiest choices for our kids.
In this article, we present our top choices both ways: our top choices as parents as these packaged snacks are still natural, wholesome, and contain few or none undesirable additives; the kids' top choices as they are delicious, easy to pack, and keep them happy and satiated!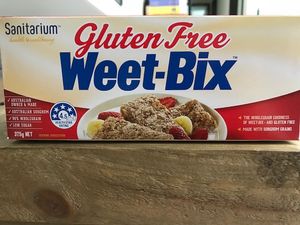 This is a very popular Australian brand of breakfast cereal. Years ago when I scoured the supermarkets for a healthy snack, this product came up first place. I took to this cereal in a bid to eat more healthily as I had problem conceiving my first baby. At that time, there was no gluten free version in the market. I loved the original one too, for its fragrance and wholesome freshness. You know it when you're biting into real food.
So I was undoubtedly elated when my kids took to the gluten free version wholeheartedly, and couldn't get enough of chomping down on it! They love it as a mid-morning snack for recess time in school.
The gluten free Weetbix is made of sorghum, not wheat. The ingredients: wholegrain sorghum (96%), golden syrup, salt, vitamins (E, niacin, thiamin, riboflavin, folate).
That's it. Such a short list, which is what I love. The lesser the ingredients, the more wholesome the food. Although there is added sugar (in the form of golden syrup) and salt, they only serve to enhance the taste, it's not excessive sweetness or saltiness. In fact, I didn't even know they were there until I read the ingredients list.
No chemicals or preservatives or other additives. So just a little salt and sugar is still acceptable to me. This gluten free version is processed in a separate factory dedicated to only gluten free products.
The big plus of this snack lies in the fibre, loads of it, and it's in the form of a healthy wholegrain. Sorghum is also considered an ancient grain, meaning that it has largely not been modified over the past several hundred years, as opposed to grains that have been altered due to selective breeding.
You can have your Weetbix with milk or yoghurt, but we love it just as it is too, especially when on the go. It is so hassle-free. If we're at home, we top it up with our non-dairy milk or green smoothie, and it makes a wholesome breakfast or lunch.
This is another one with a thumbs up from us. Though not as filling and fibrous as the Weetbix, this crispibread is a light, delicate and fun snack. Its texture is more like a rice cracker, thinly sliced. Have it with your favourite dip or spread, downed with your lemon-infused water, and you really can't ask for more bliss than this. Our favourite dip is still the long-standing refreshing avocado dip.
If you're on the go, or simply rushing for time, eating this on its own is already an awesome treat! The only seasoning in it is iodised salt. No artificial flavouring, no preservatives or other additives.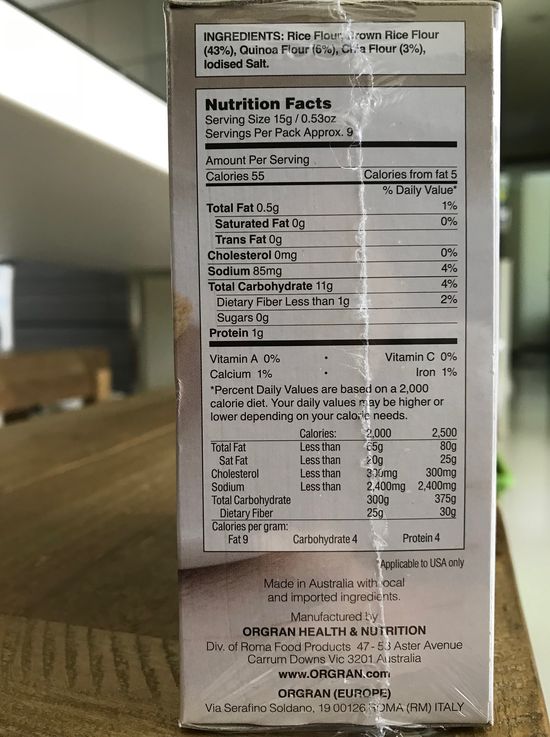 The ingredients list: rice flour, brown rice flour (43%), quinoa flour (6%), chia flour (3%), iodised salt.
Again, it is a short list, with ingredients that we can all understand. No complex jargon, no chemicals.
There are several in this series of Orgran gluten free multigrain crispibread, including with chia, with quinoa, and with buckwheat. They are all equally delicious and wholesome.
But not all Orgran products are as clean as this, as in being close to the natural state, and without additives. For instance, another snack that my son used to love was the Orgran Gluten Free Amaretti Biscotti. At that time, it was the only gluten free snack left on the shelf, so I grabbed and went. He fell in love with it, and it became a habit to stock it up for him whenever we ran out.
One day, I wasn't in a hurry, and happened to browse the labelling on the box. I was surprised to see it had a rather long ingredients list: maize starch, raw sugar, palm vegetable oil, coconut desiccated (sulphur dioxide), rice flour, brown rice syrup, yellow pea flour, natural amaretto flavour (0.5%), emulsifier: vegetable derived monoglycerides, salt, raising agent: sodium bicarbonate.
I wouldn't go into the details here, as it warrants another post for another day. But if some of the ingredients look suspicious to you, then you're right, trust your gut instinct. And research on them. As for me, I'd learnt my lesson: scrutinise each and every product, ingredients list can be vastly different even if made by the same company.
Edit: A subsequent post discusses Allergies to Food Additives – Preservatives. It includes sulphur dioxide found in the Biscotti above.
Is that all?
As it is, only these two items on the packaged food list. Yes, that is all. For now, until we can find other snacks of the same high standard in terms of being natural and wholesome, with no additives.
There are other items that we have tried, but I won't be recommending them here simply because they do not meet my stringent criteria.
If you know of other snacks that are natural and wholesome, and without additives, do share them in the comments below. In the meantime, do enjoy the Weetbix and Orgran crispibread!
Please follow and like us: